FAQs¶
IMPORTANT TIPS:
Enable 'Show All Replicas' in the faceted search engine to increase the chances of finding a suitable node that hosts the data of your interest.

Visit the Data Nodes Status page to find the nodes that are down.
This FAQ focuses on question concerning the data management and the performance of the ESGF portals and nodes. For questions regarding models performance, please contact the individual modeling centers (see just below).
How to contact the modelling group¶
The contact information is in the header of the downloaded NetCDF file:
with netCDF4 in python: dataset_name.contact

in shell:
$ ncdump -h dataset_name.nc  | grep contact

The contact of the CMIP6 modelling groups is under the "[Show citation]" button in the list of "Full Dataset Services" in the information below the result of your search.
How to contact us¶
For questions regarding the data management and the performance of ESGF portals and nodes, please send an email to the user support emailing list: esgf-user@lists.llnl.gov.
We are the data managers of several petabytes of data, in order to reproduce your issue we need the following information:
Your browser and operating sytem, e.g. Firefox 68.0.2 on Ubuntu 18.04.

Your OpenID.

The complete name of the file(s) or data set(s) you attempt to download.

The host node, for instance, esgf-index1.ceda.ac.uk, esgf-node.llnl.gov,…

The steps required to reproduce the problem.

The exact error message. Run the script in debug mode to get a detailed error message:
If you want to meet the community and be informed of downtime notifications and updates, please subscribe to the emailing list here.
Data¶
This FAQ focuses on questions concerning data, e.g. data format, data processing, CMIP and CORDEX data.
Each ESGF question is sorted into exactly one topic. Questions of general interest and questions matching several topics are under topic ESGF General.
ESGF Login/Registration¶
Do I have to have a user account to search for data?¶
You don't need an account to search for data on a public project. You will need an account to download data from some data projects or to use the data cart feature. You should get an account on the node you wish to download data from.
Do I need to join the project serving the data?¶
You only need to join the project if you plan to edit wiki pages, upload files etc. In case you want to download data from ESGF, you will most likely have to join a data access control group. These groups are not the same as projects. For details about data access groups see tutorial Authorization for ESGF Data Access.
My group memberships are not shown¶
Normally, group memberships are shown on your User Profile. User Profiles and group registration are related to an account, not a person. You may have registered for group access using a different account or an account created before the 2015 ESGF overhaul, that no longer exists.
I am getting a security warning when trying to login¶
ESGF uses a self-signed certificate. You have to tell your browser to accept this non-commerical certificate. Each browser does this differently. See tutorial Get your browser to accept the ESGF certificate
I get a Java error on login¶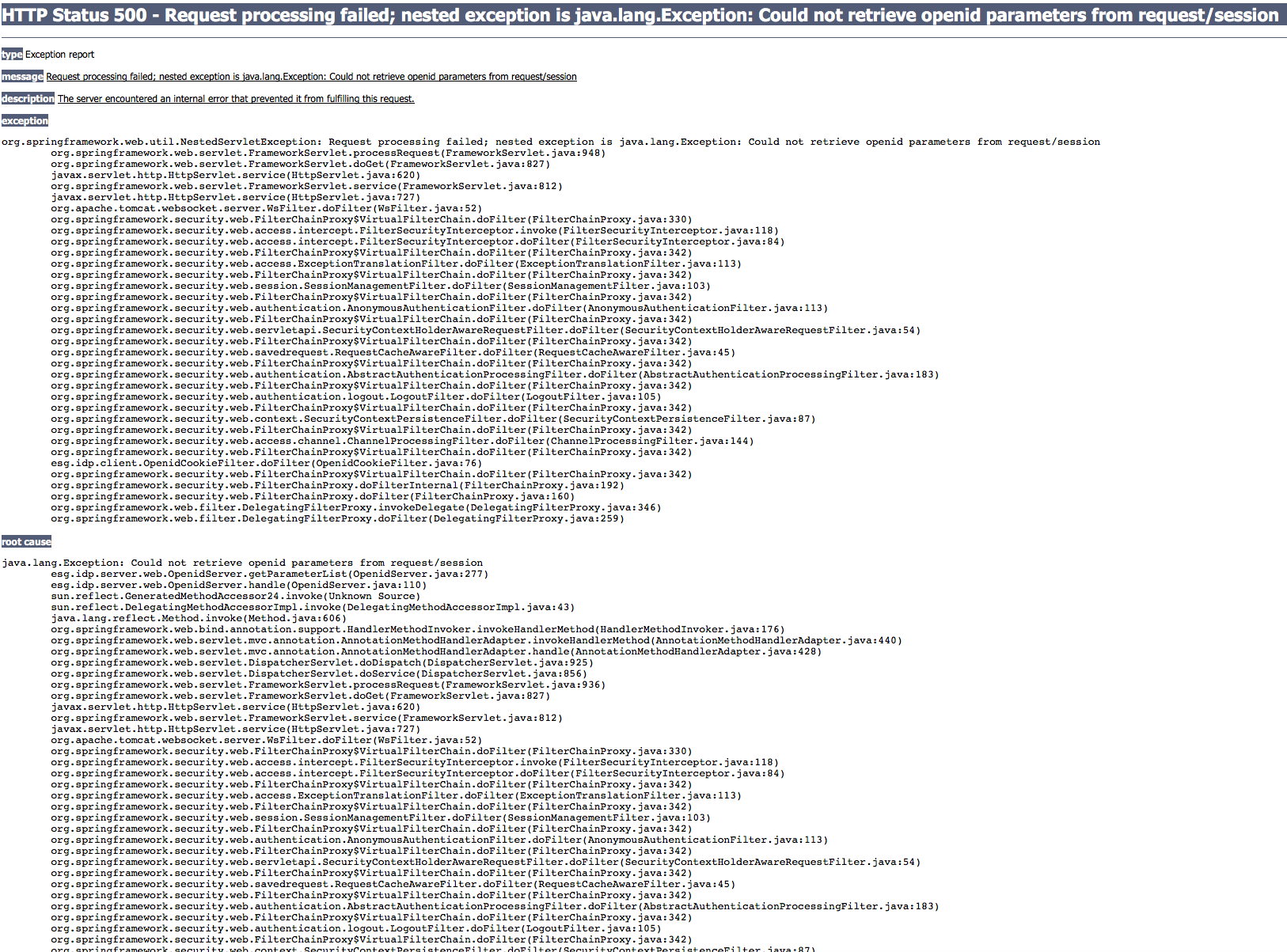 Solution 1

To get a new cookie you will need to clear your cache, close your browser, and try logging in again.

Solution 2

Open a private window. Firefox will not remember its cookies in this window.
I cannot login with my OpenID issued by pcmdi.llnl.gov¶

I cannot login with my OpenID created before January 2016¶
Instead, I'm getting an error "Error: unable to resolve OpenID identifier" or I'm guided to a Group Registration Request page and, after pressing "Register", I'm getting a "HTTP Status 500".
Most ESGF partners do not maintain accounts from before the ESGF overhaul. The same may be true for accounts created on test nodes during the overhaul (June 2015 - January 2016). These include OpenIDs from pcmdi9 and esg-dev.
Please create a new account on an ESGF node of your choice. Your new account should be accepted by every ESGF portal and ESGF data nodes. Note to change your password and account information, you must login into the ESGF node you created the account on. Also register to the data access control groups again, e.g. CMIP5 Research or CMIP5 Commercial (for download of CMIP5 data).
I get the error: "Cannot resolve openid"¶
This could be either a problem with the user account, or with the server setup where the user registered:
If the user data (openid, first name, last name, etc.) contains non-standard characters, the login will fail. The user should change the data him/herself, or contact the server administrator to update their account

The server pcmdi.llnl.gov has been moved to esgf-node.llnl.gov. If you have an OpenID https://pcmdi.llnl.gov/esgf-idp/openid/your_username, simply use https://esgf-node.llnl.gov/esgf-idp/openid/your_username instead.

The account may no longer be valid (e.g. an pre-2016 OpenID). Simply create a new account.

The OpenID issuer is not in the ESGF whitelist of accepted issuers. For example, www.earthsystemgrid.org OpenIDs are no longer compatible with ESGF identity provider service since ESGF overhaul. Therefore, they are not accepted even if they are new. In this case, you should create a new account at a running ESGF portal.

Or the server is not setup correctly. The administrator should check for these possible problems:

Certificate expired (host certificate or CA certificate)

Root CA not in the truststore or not in the federation certificate repository

Server OpenID provider URL not in the whitelist of OpenID relying party

Server clock sync issue

Firewall side effects

The file esg-trustore.ts does not match the file jssecacerts in the JAVA installation directory
I get the error: "OpenID Discovery Error: unrecognized by the Identity Provider"¶

The server which issued the OpenID was retired or now has a different name, e.g. pcmdi3, pcmdi9 and pcmdi.llnl.gov were changed to esgf-node.llnl.gov and esgf-node.ipsl.fr was changed to esgf-node.ipsl.upmc.fr. If you have an OpenID https://pcmdi.llnl.gov/esgf-idp/openid/your_username, simply use https://esgf-node.llnl.gov/esgf-idp/openid/your_username instead. In all other cases, the old OpenIDs are no longer valid. Create a new OpenID at the ESGF node of your choice.
My new OpenID is not available in Firefox¶
Instead Firefox uses an old OpenID.
Did a message appear in the same Firefox session whether to use your credials imported into your browser? Please respond that query with pressing "cancel" since an old OpenID may have been assigned to your credential. This can even happen in a private window.
I have not received an email confirming my registration¶
ESGF does not require the user to reply to any confirmation email. You can immediately use your new account.
I forgot my password See tutorial Forgot Password
ESGF Search¶
How do I find data?¶
Visit the home page of one of the ESGF portals with your web browser and follow one of the general or project-specific links to a search surface. In easy cases you also may use the Search & Download Data box with its search text field. This box contains a link "Search with options" to a general search surface as well.

I don't find the expected data¶
There might be several reasons and solutions for this issue:
Solution 1

ESGF portals may be disturbed by Firefox's cache content or old cookies. Use Firefox in a private window (see Firefox menu).

Solution 2

If you need CMIP data, enable the checkbox "Show All Replicas". The most important part of the CMIP data, the output1 data, have been replicated. Replicas are exact copies and they are a good alternative if one or more data nodes are down (check the nodes status here). Especially now, in the phase of redeployment after ESGF overhaul, many data nodes are still down. The bitstreams of replica and master copy are identical if the number or date of the version is the same.

Solution 4

Not all variables, times, altitude levels have been archived for all time frequencies and experiments. For example, CMIP5 RCP daily time series are only available for the years 2006-2100, 2181-2200, and 2281-2300. Which CMIP5 data have been required to the modeling groups for which time frequency and experiment is tabulated in the CMIP5 Standard Output document. For CMIP6, see the CMIP6 Data Request. For CORDEX, see the Requested Variables.

Solution 5

In case a portal has technical problems, try another ESGF portal, find the list of portals, (also called index nodes or CoG nodes), here

Solution 6

Seldom metadata have not properly been overtaken from a data node. In this case circumvent portals and try finding data on the data nodes directly. With help of the usual ESGF Search, find out which model simulations have been stored on which data node. Go to the THREDDS catalog of that data node and use the download links there.
I get the error: "transaction aborted undefined"¶
This error may occur after clicking on "Show Files" to expand the file list of a dataset and is probably caused by Firefox's cache content or old cookies.

Solution

Use Firefox in a private window (see Firefox menu).